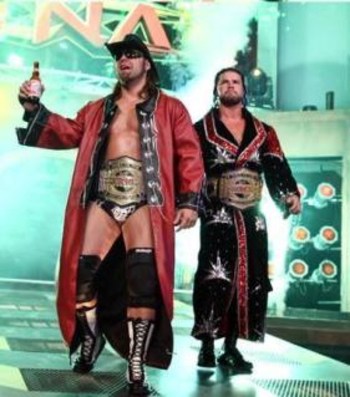 Beer Money will compete in
the CWR Tag Tourney!
On Saturday, March 27, 2010, Canadian Wrestling Revolution will be holding its first ever Tag Team Title Tournament at the Vaughan Sportsplex in Vaughan, Ontario. The tournament was booked by former TNA superstar, turned Fight Network on-air talent, Johnny Devine, and will feature some of Ontario's top tag team talent.
Already confirmed for the tournament are The Flatliners (Matt Burns and Asylum), TnT (Tyson Dux and Tornado), The Warriors (Josh Alexander and Mike Rollins), Team All-Japan (Kyoshi and Kushida), as well as the student/teacher team of Corey Mason and Johnny Devine.
The card offers something completely different, that hasn't been seen in Ontario in a very long time. The groups will compete in a round-robin style competition, with the winners being crowned the first ever CWR Tag Team Champions.


Johnny Devine

"There's a decided lack of great tag teams out there right now," says booker Johnny Devine, "But the ones that are there need some recognition. Tag Team wrestling has always been a huge part of an overall wrestling show, and today's t.v. product doesn't want to recognize that real teams are still a great way for guys to get ahead in the business. Why not give the Ontario teams a chance to prove they are the best?"

In order to assist the teams in developing some recognition, and gain some valuable in-ring experience, TNA's Beer Money Inc. (Robert Roode and James Storm), will be the special superstar guest Tag Team on the show. When asked what Beer Money Inc. will add to this tournament, Devine responded: "Beer Money was chosen because they are multi-time World Tag Team Champions. They have been around the best teams in the world, and if anyone can test the mettle of Ontario's tag teams, these are the men to do it."

This will be the first chance Ontario fans will get to see Beer Money Inc. live, and will elevate Ontario's teams to a new level. Robert Roode has often competed as a single's competitor across Ontario, but now fans will get to see a world-class, heavily experienced tag team in action.


The local teams are stepping up to the plate, and accepting the challenge ahead. One team to definitely watch out for is Ontario's Flatliners. Voted Ontario's best tag team for the past two years, and recently riding on the their successful debut with Ring of Honor, The Flatliners are taking this tournament very seriously.

"We have been pushing it in the gym working on conditioning," expresses Matt Burns, "And I'm not just talking about running on a treadmill. I'm talking cardio, then throwing around a heavy bag, then back to cardio, back to the bag etc. When march 27th comes, you can gurantee we will be ready!"

The Flatliners are not the only team hitting it hard at the gym. Tyson Dux, one half of TnT, is considered to be the best wrestler in Canada right now. All his matches are wrestling clinics. When teamed with Tornado, another seasoned veteran, this team's chemistry, experience, and knowledge gives them a huge advantage going into the tournament.

Dux realizes the importance of being ready, not just for the upcoming tournament, but for the wrestling business in general. As Assistant Trainer at the famous Can-Am Wrestling school in Windsor, Ontario, Tyson sets a clear example of how a wrestler should train, both in the ring, and at the gym. "I prepare like I do for every contest, with a good strict diet and hard intense workouts. I'm also the assistant trainer at the Can Am Wrestling School, so I am always prepared."


The Warriors consisting of "The Ronin" Josh Alexander, and "Psycho" Mike Rollins, have been on a tear as of late within the Canadian Wrestling Revolution, and the Ontario Independent wrestling scene in general. In combination with "The Future of Fitness" Miss Danyah, and "Your Saviour" Sebastian Suave, they have been collectively known as Society's Saviours, and have been making the lives of wrestlers and fans alike difficult within CWR.

This team is always in a state of cat-like readiness. When asked about their training regimen, one half of this team took offence to the mere mention of this question: "You act as if special preparations need to be made for one evening versus another!" cries Mike Rollins, "As if we have been performing at inadequate levels for the past year! You obviously do not understand the way of The Warriors! Every time we step foot in a ring, we are better than we were the week before! And that means every week, the bar has been set higher for everyone else!"

To add to Rollins' confidence, partner Josh Alexander takes a more calming approach. "Focus, discipline, and respect is what we bring to the game. Unlike most, we show respect for our opponents, and what they can do. This leaves The Warriors one step ahead. We realize that we must be one mind, body, and soul in order to achieve victory. It's a fair fight, and the better team always wins. That being said, I wouldn't be surprised to see tag team gold for The Warriors."

What should fans expect from this tournament? Well, fierce competition for one.

"I can gurantee that everyone will be glued to the monitor backstage, scouting the matches, preparing themselves for who they wrestle next, learning their opponents moves, and taking notes," states Burns. "What will set us (The Flatliners) apart, is the fact that we train together constantly, and we have a lot of weapons that we can use at any time. We're not exactly easy to prepare for. We can match speed with many guys in this tournament; we can match or top power with just about anyone too."

Mike Rollins' passion is evident. According to Rollins, the CWR community should expect "Chaos! Anarchy! Anabolism! because The Warriors are more aggressive! We are more intense! We hit harder! We move faster! Add a pinch of raw attitude, and the twist of a lemon, and you are dealing with a pair of individuals that have transcended tag team wrestling! You are dealing with WARRIORS! YES!."

Alexander adds: "I believe that once Society's Saviours, namely The Warriors realize our goal of competing and winning this grueling tournament, both fans and wrestlers alike will realize our ways are the true path to the ultimate ascendancy. Society's Saviours will have our first great triumph and it will be my honor to enlighten all those watching."

Fans can also expect a show that is completely unique from any other wrestling promotion in Ontario.

"CWR offers something different from top to bottom," states booker/wrestler Johnny Devine. "CWR shows are very kid and family friendly, with no gratuitous violence or blood, and no sex in any of its matches or storylines. The wrestlers CWR employs are all the best Ontario has to offer. Anyone who buys a ticket to see a CWR show knows they are getting a quality show for their money."

The biggest affirmation of the credibility of this card comes from Tyson Dux: "If you are a fan of wrestling, you will want to see this show. If you are not a fan of pro wrestling come out and watch how all these talented individuals will blow your mind."

Ready to have your mind blown? Belltime is 4pm on Saturday, March 27th at the Vaughan Sportsplex. Tickets are $15 each, and more information is available at www.cwrwrestling.ca, or you can email danyahwrestling@hotmail.com. Be there!