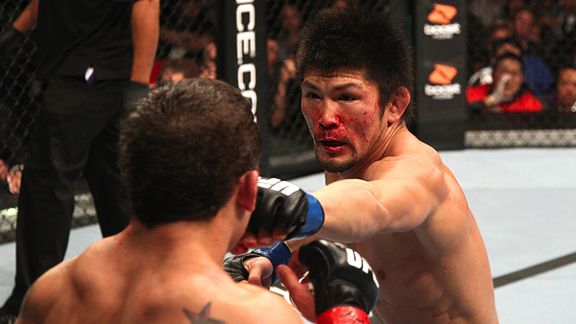 This Saturday UFC hosts their second event in Vancouver, British Columbia featuring a heavyweight clash between heavy hitters Junior Dos Santos and Shane Carwin with the winner being first in line for heavyweight title.
While some are looking to further their way in their respective weight classes, others are fighting to keep their UFC career alive – These are the combatants I will take a look at in this article.
Michihiro Omigawa [12-9-1]
It might seem a little strange that a consensus top five featherweight fighter would be facing his exit from the organization with a defeat but this is a reality for Omigawa.
Omigawa made his return to the UFC in February where he was out-wrestled by Chad Mendes which snapped his five-fight winning streak.
The Japanese sensation also had a stint inside the UFC as a part of their lightweight division between 2007 and 2008 going 0-2 with decision losses to Matt Wiman and Thiago Tavares.
If Omigawa is unable to get past the Team Punishment product Darren Elkins that would be four losses in as many trips to the octagon which would likely send him back to Japan.
Joey Beltran [12-5]
A vicious TKO stoppage of former octagon favorite Houston Alexander got him a foot in the door and if he's on the receiving end of one this time it will be the end for "The Mexicutioner".
Beltran has gone 2-2 inside the UFC with his past two performances ending without him having his hand raised.
Beltran has expressed in interviews that the UFC brass have made it clear that he is only still contracted because of his exciting fighting style and his willingness to put on a show for the fans.
However, no matter how much the office likes you or how much the fans love you three straight is three straight and that would be the end for Beltran.
And that wraps us up for this edition of the chopping block, only two men that need to fight to keep their octagon careers alive this weekend – Be sure to catch all the action beginning at 6PM ET/ 7PM PT on Facebook, Youtube or Xbox 360 Network.