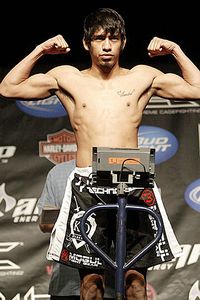 Hey O-Sters, my name is Justin Faux and I've been following Tha O Show for a number of years and wanted to begin contributing to the nation.

I began writing about mixed martial arts around two years ago and have written for many MMA sites including Sports Illustrated, Head Kick legend, Heavy.com and I am now a regular writer for Scrapp! Fight Magazine.

Looking forward to sharing my writing and my opinion on everything in the world of MMA in 2011.
On January 22nd, the UFC will host their first free to air event of the new year live from Fort Hood in Killeen, Texas.
This marks their third event that the UFC has hosted in cooperation with a US military base.
With the recent merger of the WEC, job security is a risk for a lot of the combatants competing under the Zuffa banner.
In this piece, I will look at the men who need a victory to keep their UFC career alive.
Will Campuzano:
Campuzano entered the WEC with an unblemished record in 2009, but after facing tough competition in Damacio Page and Eddie Wineland in his first three trips to the blue cage, he was cut from the organization.
While away from the WEC, he collected one victory before getting the invite back to compete on UFC's Ultimate Finale 12 event as the first ever bantamweight bout since the merger, but Campuzano missed weight.
That night, his opponent Nick Pace was able to finish him with modified choke he dubbed the "pace choke" and it was expected that Campuzano would get his walking papers following that performance.
However, Will got the call back to the big stage and is in a do or die situation following losing three of his last five bouts not to mention missing weight.
Amiclar Alves:
Alves has been competing in Brazil since 2006, stringing together an impressive 11-1 record before getting matched up with Mike Pierce this past August at UFC 118.
Pierce would prove to be too much for the black belt in judo, collecting a straight armbar in the final round to keep on moving up the stacked 170 pounds ladder.
Alves get's his chance to redeem himself this Saturday when he faces the winner of the Pros vs. Joes television series, Charlie Brenneman.
If Alves falls short to the AMA stand out it will likely signal the end of his UFC career with two straight losses.
Rani Yahya:
Yahya has been competing in the WEC since 2007 and has developed a reputation of being a highly entertaining fighter following numerous submission of the night bonuses.
Yahya broke onto the WEC scene in 2007 with a victory over Canadian stand out Mark Hominick to earn himself a shot at the WEC Bantamweight kingpin Chase Beebee.
Following an unsuccessful attempt at capturing the title and being viciously knocked out by Norifumi "Kid" Yamamoto, he was given an invite back to the organization.
Upon his return, Yahya would string together three victories before back-to-back losses to Joseph Benavidez and Takeya Mizugaki.
A third loss would likely be the end for the former ADCC World Submission Wrestling Champion.
Mike Thomas Brown:
The man standing on the opposite side of the octagon when Yahya fights will be Mike Thomas Brown, the former WEC Featherweight Champion.
Brown shocked the world in 2008 when he knocked out WEC poster boy Urijah Faber and continued to defend his Championship twice more before running into the seemingly unstoppable force, Jose Aldo.
Since he lost his Championship, Brown has gone 2-2 with his last fight being a loss to Diego Nunes at UFC 125 merely three weeks ago
Brown is 35 years of age and seemingly nearing the end of his fight career, can he hold on for one last run in the UFC? Or is his time up?
We will all find out this Saturday.
Mike Guymon:
Guymon strung together an impressive record on the regional MMA scene of 11-2-1 before getting the chance to prove himself inside the octagon.
Since his debut in January of 2010, Guymon has gone 1-2 with his most recent loss coming at UFC 121, when Daniel Roberts took a little over a minute to dispose of the King of The Cage veteran.
The step up in competition has proven to be tough on Guymon and without a victory, he may find himself competing for King of The Cage again very shortly.
DaMarques Johnson:
Johnson burst onto your television set as a part of the ninth installment of "The Ultimate Fighter" as the outspoken American who clashed heads with Team UK's coach Michael Bisping.
Johnson would make it to the finals of the season, following two impressive wins inside the house; however, on his UFC debut, he fell short to Britain's James Wilks.
Johnson bounced back with two impressive stoppages that earned him bonuses before running into Matt Riddle this past August.
Before their bout, Johnson missed weight not once but twice before his opponent agreed to compete at a catchweight.
Riddle woukd knock out Johnson in the second round of their bout, which leaves The Ultimate Fighter runner up in a tough spot leading into his fight with Mike Guymon.
Tim Hague:
Hague is in a different position to everyone else on this list; unlike everyone else, he is the only one who is on the hot seat despite being in the win column.
Hague made his UFC debut in 2009 stopping Pat Barry with a gillotine choke in a little over a minute; however, after that he went on to lose three straight before getting released from the organization.
Hague competed in Canada for the Aggression MMA organization, getting back-to-back knock outs against lesser opponents.
Now, he has his chance to play in the big time again and without a victory or an impressive performance it could be a short stay for "The Thrashing Machine."